Posts for tag: oral hygiene
By The Foundry Dental Center
November 19, 2014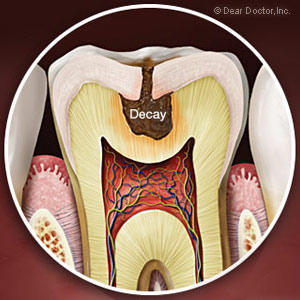 Among our most common diseases, tooth decay can be a big problem at any age: in the U.S., one in four children 5 and under has some form of the disease, as well as ninety percent of those 60 and older — and a quarter of those have suffered complete tooth loss.
Fortunately, we now know what needs to be done on a regular basis to prevent tooth decay. Unfortunately, many are uninformed about all they need to do to lower their risk.
Here, then, are 5 questions to ask yourself to see if you're on the right prevention path or not.
Do I brush and floss daily? If not, you're aiding and abetting the "enemy" — bacteria that cause tooth decay. Bacteria that make up plaque feed on any food remnants that adhere to tooth surfaces. Brushing at least once daily (twice is better) removes plaque, while flossing removes plaque between teeth that can't be reached with a brush. Removing plaque will lower your mouth's acid levels that cause a loss of minerals to the enamel surface.
Do I use the proper techniques for brushing and flossing? While it's important to establish daily hygiene habits, if you're not performing them properly you won't realize the full benefit from your efforts. But don't dismay — we can train you in the proper techniques for brushing and flossing your teeth.
Do I use fluoride toothpaste? This naturally-occurring chemical strengthens tooth enamel and makes it more resistant to decay. You can increase fluoride's absorption rate into enamel by using hygiene products that contain it.
Do I constantly snack between meals? Saliva neutralizes acid remaining in the mouth after eating in about 30 to 60 minutes. If you're constantly snacking or sipping acidic beverages, however, saliva can't do this effectively. It's best to limit snacking to a few, specific times and restrict acidic beverages to meal time only.
Do I visit the dentist for cleanings and checkups? While brushing and flossing reduce plaque, it can't remove it from hard-to-reach places below the gums or harder deposits (calculus) that have developed. A professional cleaning twice a year removes the plaque and calculus left from daily hygiene. We can also gauge the health of your teeth and determine if tooth decay or gum disease may be developing.
If you would like more information on tooth decay prevention, please contact us or schedule an appointment for a consultation. You can also learn more about this topic by reading the Dear Doctor magazine article "Tooth Decay: How to Assess Your Risk."
By The Foundry Dental Center
August 25, 2014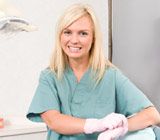 Keeping up your dental hygiene with daily brushing and flossing is essential to preventing disease and maintaining good oral health. But that doesn't mean it's all on your shoulders — the fact is, you have a strong partner in your dental hygienist. This valuable member of our staff provides a number of different functions that add a boost to your hygiene habits.
Perhaps the most important of those functions is semi-annual teeth cleanings. While daily brushing and flossing removes most of the bacterial plaque that causes dental disease and decay, harder deposits (tartar) will still form over time, especially in places your brush or floss can't reach. To remove it requires advanced skills and specially designed hand instruments or ultrasonic equipment. In the case of advancing gum disease, your hygienist may also assist with a procedure known as root planing to reach plaque and tartar adhering to tooth root surfaces below the gum line.
Dental hygienists are also on the lookout for abnormalities that may be a sign of disease. During teeth-cleaning sessions, your hygienist looks for gum inflammation or bleeding that may indicate the presence of periodontal gum disease, a progressive condition that, left untreated, could lead to tooth loss. We will be able to assess the extent of the disease by gently probing and measuring any detachment of the gum tissue that has formed voids known as pockets. They also look for signs of oral cancer — bumps, sores or areas of swelling or tenderness.
There's one other function your hygienist provides to enhance your oral health — educating and training you on dental care. They can provide you helpful information on risk factors for tooth decay or other dental diseases, along with helpful ways to reduce that risk. They can also help you improve your brushing and flossing techniques by demonstrating proper form.
Cleaning, monitoring and educating — these different "hats" your hygienist wears form a beneficial part of your overall dental care. Working together, you'll be able to keep your teeth and gums in good form and function.
If you would like more information on the benefits of a dental hygienist, please contact us or schedule an appointment for a consultation. You can also learn more about this topic by reading the Dear Doctor magazine article "Dental Hygiene Visit."
By The Foundry Dental Center
August 01, 2014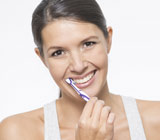 If you're in the habit of making New Year's resolutions, perhaps you've made familiar promises like losing weight, running a 5k race or joining a gym. How about this one: "I resolve this year to take better care of my teeth." Better yet, you needn't wait for the next January 1st — you can begin better oral hygiene habits today.
Although maybe not as glamorous as other self-improvement habits, oral hygiene still promises huge benefits not only for your teeth and gums, but also for your general health and possibly your wallet. Daily brushing and flossing reduces your risk of tooth decay and periodontal (gum) disease, which can in turn reduce your long-term dental care costs. Besides, clean teeth just look better!
If brushing your teeth hasn't been a regular habit for you, here are a few tips to get you on the right track:
Pick the right brush. For most people, a soft bristled, multi-tufted toothbrush is the best choice. If you're not sure what kind of brush to use, ask us for recommendations.
Look for the basics in toothpaste. Store shelves are filled with toothpastes promising everything from teeth whitening to tartar control. Just be sure of two things: that the product contains fluoride (proven to reduce the risk of tooth decay) and it has the American Dental Association's Seal of Approval. If you have sensitive teeth, ask us about toothpaste options that address this or other special situations.
Easy does it with the technique. Over-vigorous brushing can harm your teeth's enamel and cause gum recession. Hold the brush handle between your fingertips with no more pressure than you would hold a pencil. Position the brush-head at the gum line at about a 45-degree angle and gently clean all your tooth surfaces. If you're trying this approach for the first time, the task should take about two minutes.
Visit your dentist twice a year to keep on track. Think of your dental healthcare team as your "personal trainers" in oral hygiene. Besides monitoring your overall dental health and removing hard to reach plaque through semi-annual cleanings, they'll also coach you on your new lifetime habit of better oral hygiene.
If you would like more information on oral hygiene, please contact us or schedule an appointment for a consultation. You can also learn more about this topic by reading the Dear Doctor magazine article "Oral Hygiene."